As
Technical Consultant (C.T.U.) to the Court and the Court of Appeal of Florence
and Fountain pen expert for the Chamber of Commerce of Florence,
Il Pennaio has been able to offer sworn statements legally certifying the authenticity, value, and state of conservation of pens
since 1994
.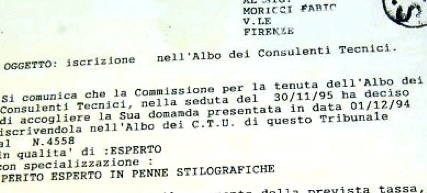 In the history of Il Pennaio, the most common reasons sworn estimates were required were :
to verify the authenticity of a pen purchased from a private individual or from a physical or online store (ebay, Katawiki, immediately.it)
to give an appraisal of a pen in cases of succession, bequest, inheritance
to correctly assess the value of the pen in order to properly insure it
to evaluate the quality of past restorations made on the pen
For details and prices of estimation services, please contact us directly by phone or email.